View Profile - apfanforlife28 (apfanforlife28)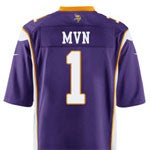 apfanforlife28
Waterboy

Send Message
Username:
apfanforlife28
Last Online:
Sept 13, 2017 9:06:41 GMT -5
Give this member the gift of ProBoards+
Purchase ProBoards+
This member hasn't wished for anything, give them a gift!
Shoutbox
apfanforlife28
:
Vikings Nation enjoy this home game cheer for our defense and help them make Eli Manning throw 4 interceptions tonight. My score for my Vikes 24 to 7 we win.
Oct 3, 2016 16:35:03 GMT -5