Zimmer
Nov 14, 2016 14:26:20 GMT -5
Post by apfanforlife28 on Nov 14, 2016 14:26:20 GMT -5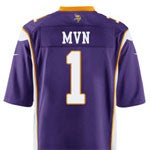 I think at first a lot of attention was given to the defense which was great last season and better at the beginning of this season. Then the issues with the offense started and the attention was shifted there. Since then the defense has been on a downward spiral and the offense actually looked pretty good against Washington.
Zimmer can't get all three phases to perform well. I understand that defenses are now passing quicker on us, but that should not mean that we should have poor tackling, below average run defense and the inability for our front line to move the offensive line. We used to have so many tackles for losses and now the running backs are blowing through our line.
Zimmer has proven he is a great defensive coach, but I'm starting to believe being a head coach is too much for him. If we made him defensive coach and found a new head coach it would allow Zimmer do what he does best.
When Teddy went down with the knee and AP came up lame the first game, I kinda threw in the towel then. Not knowing what I was going to see from the O-line and Bradford. The Defense won three of those five games they won when they went 5-0 to start. Since their bye week, they don't know who they are, they don't play with any confidence or professionalism. It is very sad to see something start out of the gates
the way it did and now it is completely where I thought it would be when we lost TB and AP. I like coach Zimmer however I just don't think
these players care about winning for him, heck (Blair Walsh) won't make a easy 20 yard PAT for the team after they score a TD, Zimmer can't even count on him a for a FG, as I said it has become a sad story. Why did Norv quit? Why didn't Zimmer fire Walsh last year and why is he still missing PATs and FGs for the Vikes, it is a moral breaker.